Written by ORCA
Manufacturer: KWA (USA)
Type: GBB



KWA - H&K MK23 USSOCOM

The KWA - MK23 USSOCOM is KWA's latest version of their H&K MK23 pistol. This is the first legally H&K licensed MK23 and has all the proper trademarks. The trademarks are etched and color filled on the metal slide.
The threaded barrel is the same 16mmCW thread as the previous KSC and Tokyo Marui MK23 replicas, so either MK23 only or thread adapters for 14mm silencers will be needed. The accessory rail is also unique to the MK23, so you'll either need an adapter or MK23 LAM to work with it.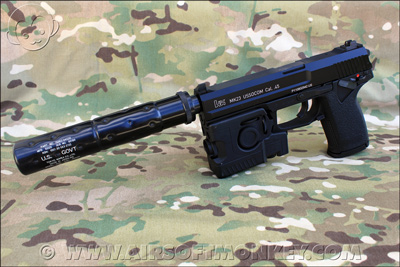 KWA - MK23 USSOCOM w/ Tokyo Marui MK23 Silencer and LAM
Features and Specifications:
Overall Length = 25 cm [9.84"]
Overall Height = 15 cm [5.91"]
Inner Barrel Length = 130 mm
Inner Barrel Diameter = 6.05 mm
Weight = 1.16 kg [2.56 lbs]
Barrel Thread = 16 mm CW
Caliber = 6 mm
Magazine Capacity = 25 rounds
Velocity = 110-116 MPS [360-380 FPS] Energy Output with 0.20g BB = 1.2 Joules
Gas System = NS2
Safety / decocking lever
Ambidextrous safety lever

Ambidextrous magazine release

Accessory rail
3-dot combat sight

Adjustable Hop-Up

Realistic construction and field stripping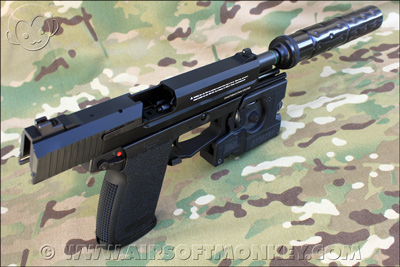 KWA - MK23 USSOCOM w/ Tokyo Marui MK23 Silencer and LAM

Chrono Results (FPS)
Green Gas
.20 BB's
Avg: 359.23