Javelin Airsoft Works - AK47 Battle Veteran EBB
Written by ORCA
Manufacturer: Javelin Airsoft Works
Type: AEG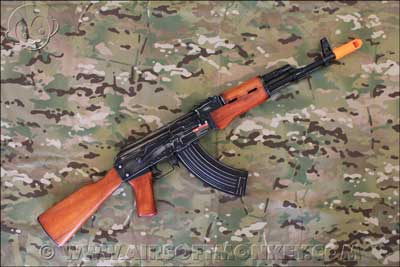 Javelin Airsoft Works - AK47 Battle Veteran EBB
Javelin Airsoft Works AK47 Battle Veteran EBB (Electric Blow Back) airsoft rifle is 1 a new series of JAW Line. The Battle Veteran series has simulated wear marks on the metal body which gives it a more authentic look.
This rifle has a real wood furniture and metal body. It takes a stick style battery, but the top cover and fore grip have been modified to take a longer, 9.6 volt battery.
What most impressed me, is this AEG has mostly AK47 furniture and body parts. This isn't just a Javelin AK74 that had the body sanded. The body and wood furniture are replicas of the original AK47. The rifle I got for review didn't include a metal metal flash hider, so you'll want to replace the plastic orange one with a AK47 specific FH like a slant break.
The included MOSFET is also a nice addition. It's in an aluminum housing and can be moved out of the body for battery installation if needed. I test fired with an 11.1 volt, 20c stick Lipo battery and had no issues. A 9.6 NiMH stick battery will also work, but it's a very snug fit.
Specifications:
Method of Operation:  Electric Blowback (EBB)
Fire Control Selection:  Safe-Semi-Full Auto Selectable
Caliber:  6mm
Battery Type: Stick Type
Average Velocity:  400 feet per second with 0.20g Javelin BBs
Cyclic Rate of Fire: 750-850 rounds per minute
Real Wood Furniture
Metal Parts Distressed for the worn combat look
Stainless Steel inner barrel
7mm Metal Bushings
Low Resistance Wiring with MOSFET
Stainless Steel Cylinder
Metal Spring Guide with Bearing
High Performance Motor
Ventilated Gearbox design
60 Day Limited Warranty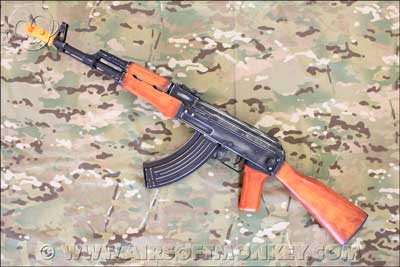 Javelin Airsoft Works - AK47 Battle Veteran EBB
Chronograph results at around 416 fps with .20 bb's.