Written by ORCA
Manufacturer: S&T (Smart Team HK)
Type: AEG
The S&T - T21 Explorer is a replica of the Israeli Military/Weapon Industries Tavor. There are many similarities between the S&T and ARES Tavor AEG's, but our distributor Spartan Imports, is making sure to state these are made by S&T. While there are some similarities between the 2 brands, the S&T T21 parts diagram shows the differences.
Getting back to the S&T T21 specifically, it's a Sportline version, meaning it's a low cost AEG. Externally the plastic body is more smooth and glossy then a military rifle, but all trademarks are in tact and seam lines are acceptable. The rails and cover plates on the top of the AEG are all plastic and "wobble" slightly due to the metal screws and bolts not being tightened down completely. . Flip up BUIS (Backup Iron Sights) are also plastic, and fold away easily. The entire AEG weighs a little more then 5lbs and it comes with a 300 round high capacity magazine. "Bolt" lock functions making it easy to adjust hop-up. The fore grip cover houses the Mini type battery compartment and is easy to access. The screws work with the plastic body to make it rigid. If you feel the AEG's body flex, in most cases you just need to tighten the screws in a specific area to remedy. Suggest you use "finger tight" pressure and loctite if needed. Will be no fun to strip threads on this AEG.
Internally this AEG does come with a quick change spring system which is easy to get to. The gearbox has a poly carbonate shell but with metal gears inside. Since the lower body is not a clamshell the entire AEG needs to be disassembled to access gearbox, hop-up, inner barrel, etc. If we figure out an easier way to access the any portion of the internal w/o complete disassembly, we'll post our findings.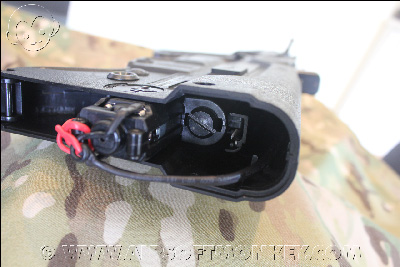 We were able to test out various magazines. All fed and sat correctly in the T21. We used the following magazines:
S&T - 300 round (Included)
Tokyo Marui - 68 round
Tokyo Marui - 190 round (Shorty High Cap)
Tokyo Marui - 300 round
Classic Army - 300 round
G&P - 190 round (Shorty High Cap)
S-Arms - 160 Round
Magpul PTS - 120 round PMAG
Magpul PTS - 120 round EMAG
Performance out of the box was good. it shoots straight and hop-up adjustments were responsive and would lock in place.
Chronograph results at around 328 fps with .20 bb's.
Spartan Imports Video of T21
Last Updated on Monday, 06 February 2012 11:10