Tokyo Marui - 5.1 Hi Capa Match Custom
Written by ORCA
Manufacturer: Tokyo Marui (Japan)
Type: Gas Blow Back
Date Acquired: 03/2012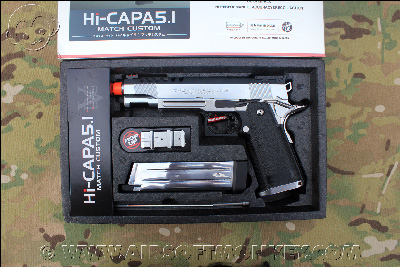 Tokyo Marui - 5.1 Hi Capa Match Custom
The Tokyo Marui - 5.1 Hi Capa Match Custom is a replica a highly customized IPSC (International Practical Shooting Confederation) style of handgun used in tournament shooting matches. This is based off the Tokyo Marui - 5.1 High Capa but has the following features added:
Plastic Slide and Frame have a Polished Hard Chrome Plate look
Custom Cuts on Slide
Front Fiber Optic Sight
Extended Slide Stop
Stainless Steel looking Magazine with Bumper
Includes grip tape if you want to add to existing grips.
Includes optional lower frame rail if you wish to install it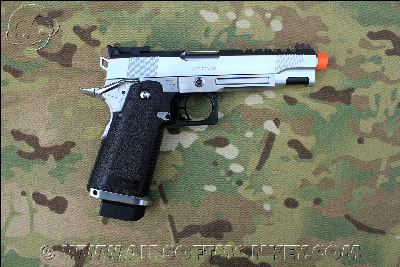 Tokyo Marui - 5.1 Hi Capa Match Custom
Since this is the Hi Capa series, there are a bunch of internal and external replacement and upgrade parts. But it's nice to see that this version has most customizations, you would have had to purchase separately in the past.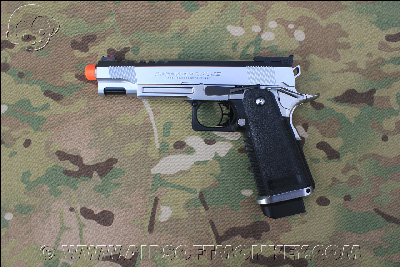 Tokyo Marui - 5.1 Hi Capa Match Custom
Chrono results (FPS)
Green Gas
.20 BB's
Avg. 312
Last Updated on Sunday, 11 March 2012 19:43