G&P CA870 22Rds Short Magazine
Written by ORCA
{simplegrade:3}
Manufacturer: G&P (Hong Kong)
Type: Magazine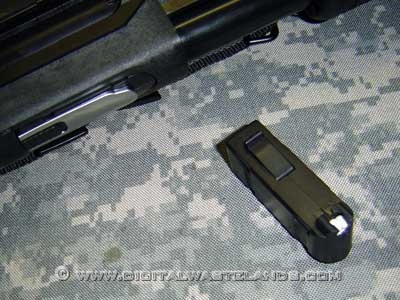 G&P CA870 22Rds Short Magazine



I've alwyas had a problem with the 44 round stock magazines of teh CA870. Probably due to the fact I've never seen a Remington 870 with a magazine. So when G&P released these low profile mags i had to score a couple.

Only had them a few days, so my report wil be brief.

Pros:
Low Profile. Makes your CA870 look more like a Remington 870.

Nice job replicating the shell loader trap door.

Cons:
Hard to insert. You feel like you have to force it in place. Hopefully as time goes on they will fit more smoothly.

Weak return spring. Spring seems to get hung up if you put the full 22 rounds. So far 16-18 rounds have worked the best.
Last Updated on Saturday, 03 February 2007 12:46