Poseidon - Seburo - CX Compact Xploder - Maruzen PPK/S New Type
Written by ORCA
{simplegrade:2}
Manufacturer: Maruzen (Japan)
Manufacturer: Poseidon (Japan)
Type: Gas Blow Back + Garage Kit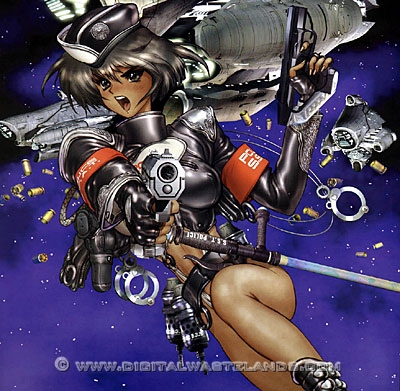 Well it had to happen... I will now attempt to build the Seburo - CX Compact Xploder, a line of weapons dreamed up by Masamune Shirow, the author of Ghost in the Shell and many other wonderful Anime and Manga.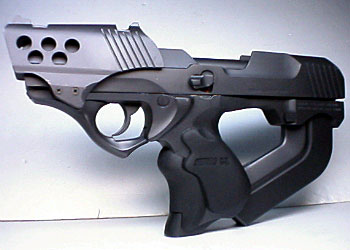 Here's what the finished product looks like... I hope mine looks this way when I'm done.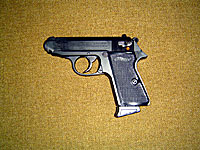 Maruzen Walther PPK/S is the Base Gun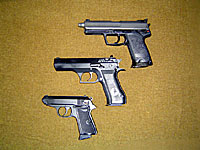 Maruzen Walther PPK/S (Bottom) Size Comparison to a Jericho and HK USP

[[[Update]]]

You wanna quick way to f-up a perfectly good Walther PPK or Resin Model Kit? Just send them my way... One thing I found out a bit too late (After Bonding the Seburo Slide to the Walther, is that the PPK New Type is different in dimensions then the original Maruzen PPK/s this resin kit was built around. Needless to say everythings a mess right now, but I'm a working on fixing it all.

[[[Update]]]

OK... after hours and hours of putty-ing and sanding and airbrushing flat black and gun metal...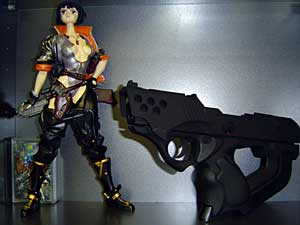 The Seburo next to its' owner

I still need to work on the mag release and sanding the slide down a little more, but it shoots as a stock PPK would. Slide blows back. May need to get a harder recoil spring.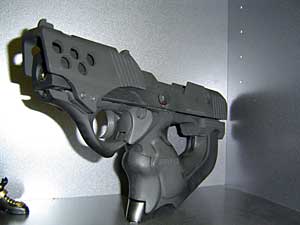 Seburo CX
[[[Update]]]
Last update. This is a perfect and relatively expensive way to make an extremely uncomfortable and poorly performing, non upgradeable airsoft gun. The thumbhole grip was made for someone with child size hands. The base performance of the Maruzen Walther PPK which was weak to begin with (due to being based on 134a gas), is now even more hindered by the resin body parts bonded to it. No amount of sanding or a harder recoil spring helped performance.
Last Updated on Sunday, 13 April 2008 12:03