Maruzen - APS2 SV (Sniper Version)
Written by ORCA
{simplegrade:3}
Manufacturer: Maruzen (Japan)
Type: Bolt Action Spring
Date Acquired: 06/2003


Maruzen APS2 SV with all the upgrades installed (See Below)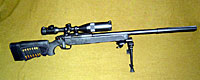 My Maruzen APS2 SV (New Commander Bipod, Verspod Clone)

UPDATE! The CA Gas Cylinder Broke!!! Replaced it with and 300%Upgraded Spring Cylinder from my pals at Airsoft Extreme. So any references to the Gas Cylinder will soon be edited out

Well it had to happen sooner or later. I wanted to check out a Bolt action action rifle...




My Maruzen APS2 SV. Bipod deployed (b4 upgrades)

Originally this rifle came with a spring driven cylinder, and I was amazed at the power and range or the stock unit.




My Maruzen APS2 SV. (b4 upgrades)

(Chronograph will be here in about a week so I can get some hard numbers)

But... as usual with me, I had to start upgrading the gun. I've already added the following:
BEC 4x30 Sniper Scope with Lighted Reticle

First Factory APS2 PPS Bolt Handle

First Factory APS2 PPS Scope Mount

CA Complete APS2 Level 2 Cylinder with 300% spring, spring guide & ver3 vacuum piston

Commander Bipod (Verspod Clone)

KM APS2 SV Silencer

Gaurder Sniper Cheek Rest

Props Canada 7.62mm Dummy Bullets


Close Up of the First Factory Upgrades


Close Up of the First Factory Upgrades. Bolt open showing Gas Valve


Close Up of the Commander Bipod and KM Silencer (Yes the silencer really silences)

I was impressed on how the gun shot stock, but after adding the Gas Cylinder it shoots insanely hard. I had to order heavier bb's to see if I can get the bb's flight path under control.

Chrono results (FPS)
300% Spring Cylinder

.20 BB's
Min: 607.10
Max: 609.92
Avg: 607.45

.43 BB's
Min: 385.54
Max: 402.86
Avg: 392.97
Last Updated on Friday, 23 March 2007 13:45