Tanaka - Model 700 Police Model
Written by ORCA
Manufacturer: Tanaka (Japan)
Type: Bolt Action Gas
Date Acquired: 09/2003




Tanaka M700 with Accessories

Since I read and saw the outstanding results of the Tanaka Gas Powered Mauser, I have been waiting for them to come out with a modern form of the rifle, and they just released the Tanaka Model 700 Police Rifle so I had to get one. I also own a Maruzen APS2/SV which had a gas cylinder upgrade (Which recently broke... Classic Army.... Grrr). And although I don't want to make direct comparisons I think it's fair to say most airsofters have seen/fired/own and APS2 series, so I will make brief comparisons based on that. Also please keep in mind I have had the rifle for only 1 day so far




Tanaka M700 (Front) APS2/SV w/K2 Silencer (Rear)

So let's get some comparisons outta the way here. The Tanaka M700 and APS2/SV weigh about the same. But I noticed the stock on the M700 is much wider near the trigger. The M700's bolt is like that of a real steel bolt rifle in that the bolt slides back very easily. My APS2 with or with out Gas Cylinder has spring resistance on drawing the bolt back and depending on how hard you have to pull it back may pull you off target. The M700's hop up is very easy to adjust with a large dial to the front of the bolt opening on the scope/sight mount. The butt stock is not adjustable on the M700, but the manual has a diagram of an adjustable butt stock. The APS2 has spacers on the butt stock. The build quality of the M700 seems looser then the APS2. You feel the magazine move when you cycle the bolt forward.

The M700 come with removable and adjustable iron sights. The rear sight uses the built on weaver mount, so you have a choice of either iron sights or scope.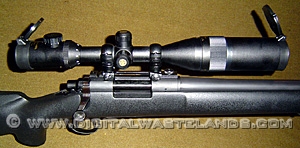 Tanaka M700 Close up of Bolt and Forward Hop Up dial

Accessories added so far:

BEC 4x30 Sniper Scope with Lighted Reticle. Scope Covers and High Mount Scope Rings

Commander - Bipod (Verspod Clone)

Guarder - Sniper Cheek Rest

Blackhawk - 1.25" Sling

Hogue - 1.25" Sling Swivels

ORCA - 7.62mm Dummy Bullets


So how does it perform? Chrono Results below, but I must say it's great to have a sniper type rifle that will sit on target because of the ease of drawing the bolt. The gas system is great and I was able to fire about 40 rounds per 1 fill. The easily adjustable hopup is great too.

Chrono results (FPS)

134a Gas
.20 BB's
Min: 410.34
Max: 421.10
Avg: 412.21

Green Gas
.20 BB's
Min: 608.12
Max: 620.34
Avg: 615.56

In closing I feel this is a great Gas Bolt Rifle for the price. It gives great performance out of the box. I hope to see some 3rd party accessories, but judging by the Tanaka Mauser, I'm not going to hold my breath.

Another great review of the M700 by Hammermods is here.

Last Updated on Tuesday, 15 November 2011 08:41