Written by ORCA
{simplegrade:4}
Manufacturer: Maruzen (Japan)
Type: Bolt Action Spring
Date Acquired: 11/2003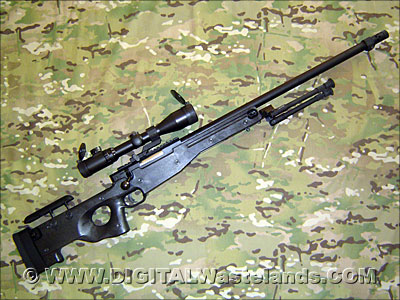 APS Type 96 with Accessories
Update 03/2007
Even though I also own 2 Tanaka M700's (AICS and the PSS), which hands down out perform a spring sniper like this Type96, this specific spring sniper I still feel is worth holding onto. Even though it's over 3 years old, it still shoots extremely consistently. While most spring snipers make a "Boing" sound when shot, my Type 96 has a wicked sounding "Crack" when fired. This is still an excellent airsoft sniping platform, but still no match for the Tanaka M700's.
Original Review:

OK so I hate the AWPer's in CS and I don't like to be the AWPer, but I do love the Accuracy International design (Thumb Hole + Large Caliber = Sexah). The Maruzen packaging was clean and secure as the other APS2 versions. Features include:
Cocking Indicator
Cylinder Quick Release
Adjustable Pad & Cheek Piece (Stock)
Length - 1150mm / 45.2in
Weight - 3340g / 7.4lbs
Inner Barrel Length - 500mm / 19.7in
Mag Capacity - 30 Rounds

APS Type 96 with Accessories
This is Maruzens latest version of the APS series and I'm quite impressed with the features. The new features for the price, compared to the ASP2EX are impressive and the design and build of this rifle is excellent (I hope Tanaka gets a hint from this).
I wanted to put on my Versapod Bipod temporarily until the Maruzen bipod ships but it wouldn't sit correctly due to interference from the built on bipod adapter. So I mounted my Harris style bipod for now.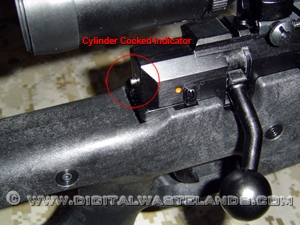 APS Type 96 Cocking Indicator

The Cocking Indicator is a nice addition. Visually or by feel you can check to see if your ready to fire.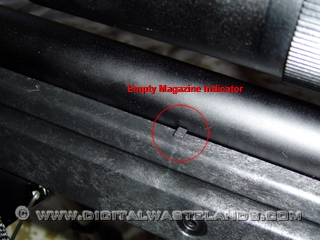 APS Type 96 Empty Magazine Indicator

Now this is a nice addition. I may have to paint the sides red though. You really have to look at it to see it. Also of note, New Magazines that have a metal lower section. Not the all plastic ASP2 ones.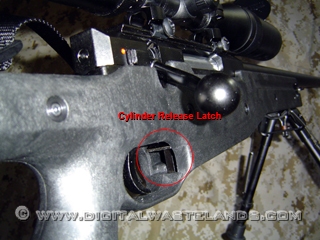 APS Type 96 Cylinder Release Latch

Another great feature. Just push down on this latch and it enables the entire cylinder to be removed. When upgraded cylinder and bolts are available this will enable a person to carry more then 1 cylinder for either different fps, or as a backup. So instead of upgrading the existing cylinder I think I'm going to wait for full cylinder upgraded to become available and carry a few.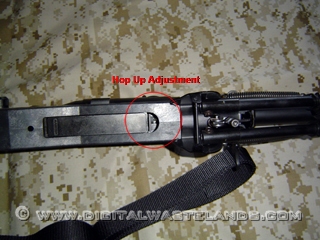 APS Type 96 Hop Up Adjustment

Hop Up Adjustment!!! Being an owner of an APS2SV, the ability to adjust hopup was something I always wanted in an APS. Although you need and allen wrench to adjust unlike the Tanaka M700, at least the option for adjusting hopup exists now.

I was amazed to see the consistency of results. The numbers didn't deviate as much as my APS2SV.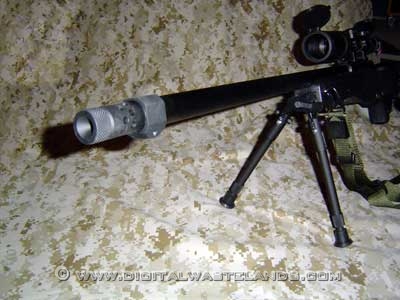 APS Type 96 with stuff

Accessories added so far:
OK 500fps Cylinder Set

Laylax Damper Cylinder Head Pro

Guarder Piston Head

Laylax PSS96 Quick Cheekpiece Screw

BEC Lighted Scope

APS Type 96 Bipod

Laylax L96 Real Hider Type 1

KM Lightweight Silencer

Guarder 51" Rifle Bag

Tac Force Sling
Over all it's a very impressive sniper rifle if just for the design alone. Will be adding more info later as the balance of accessories and upgrades come in.
Chrono results (FPS)
.20 BB's
Min: 475.93
Max: 485.66
Avg: 482.32
Last Updated on Friday, 31 August 2007 07:24