Maxpedition - Condor-2 Backpack - Khaki
Written by ORCA
{simplegrade:5}
Manufacturer: Maxpedition
Type: Backpack

Overall Capacity: 1950 cu. in. / 32 L
Hydration: Fits up to 100 oz / 3L Reservoir
Support: 1" Sternum Strap, 1.5" Waist Strap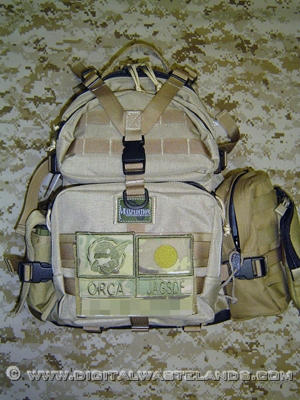 Maxpedition Condor-2 with Blackhawk Admin Pouch (left) and Kingarms Utility Pouch (right). Custom Multicam Patches made by Camotech.



I decided on getting a Maxpedition Condor-2 backpack as my everyday work pack. It's a medium sized modular backpack system. It's got MOLLE type attachement all over so I was able to easily add extra secure pouches/storage. I've can even share pouches between my assault vest, modular thigh holster, and anythign made for MOLLE/PALs type attachements.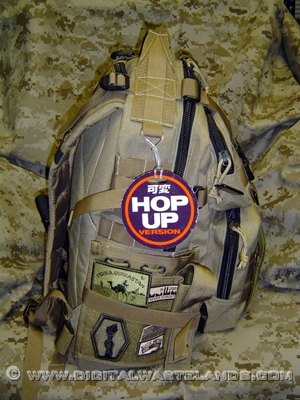 Left side showing the BHI Admin Pouch and more subdued patches, With obligatory Marui bag tag.



The Condor-2 backpack also has some neat features like an area to store hydration pouch and with a Blackhawk Concealment Holster, there's a space to carry your sidearm internally.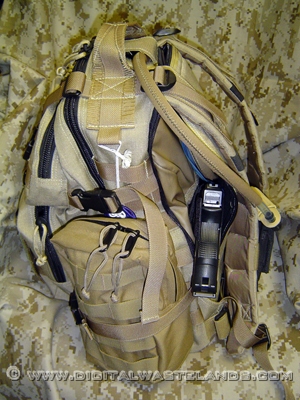 Right side showing the King Arms Utility Pouch And Hydration pouch and concealed firearm carry area.



Build quality is top notch. Materials used are high quality and the pack keeps its' shape, and everything inside protected.


Addition of 6 rows of PALS webbing per side for full MOLLE compatibility

Addition of 2 rows of PALS webbing on top front pocket for full MOLLE/ALICE compatibility

Addition of 2 rows of PALS webbing on lower front pocket for full MOLLE/ALICE compatibility

Addition of 2 quick release compression straps per side

Addition of internal silent keyper in lower front pocket

Improved hydration system pocket with zipper opening, a reservoir hang-tab, and a velcro bi-directional drink tube port

Hydration pocket now has more capacity (100oz new vs. 72oz old) with greatly increased comfort and ergonomics

Hydration pocket can accommodate a concealed firearm using our Hook & Loop Modular Accessories (e.g. #3501 Universal Modular Holster, sold separately)

Non-slip, high abrasion-resistance bottom
The Blackhawk Concealment Holster
Last Updated on Saturday, 03 February 2007 10:22